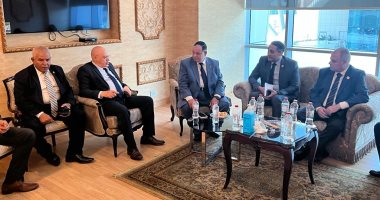 A few moments ago, Cairo International Airport, this morning, Sunday, June 19, 2022, El Shahat Ghaturi, Head of the Customs Authority, headed a delegation from the Egyptian Customs Authority, to attend the meetings of the World Customs Organization, which will be held at the organization's headquarters in the Belgian capital, Brussels, from 20 to 25 June 2022.
The meetings begin with participation in the work of the 86th session of the General Policies Committee of the World Customs Organization, which will be held at the headquarters of the World Customs Organization in Brussels from 20 to 25 June.
The meetings also include attending the activities of the regional meeting for the region of North Africa, the Middle East and the Near, which has 17 members, on June 22.
The visit concludes by attending the meeting of the 139th and 140th sessions of the Customs Cooperation Council of the World Customs Organization, which will be held from 23 to 25 June 2022.
It is scheduled that, on the sidelines of these meetings, the head of the Customs Authority will hold several meetings with his counterparts from the heads of customs, to discuss further strengthening the joint cooperation between the Egyptian Customs Authority and its counterparts in those countries.
The World Customs Organization (WCO) is an independent intergovernmental organization that works in close cooperation with governmental and non-governmental partners such as the World Trade Organization, United Nations organizations, the World Bank and academic institutions … etc. It is concerned with everything related to legislation and customs issues that regulate trade. It aims to raise the efficiency of customs interests across the world, improve their services and enable them to perform their functions in terms of trade facilitation and securing commercial exchanges.
The organization is headquartered in the Belgian capital, Brussels, and was founded in 1952 as the "Customs Cooperation Council." The inaugural session of the Customs Cooperation Council was held in Brussels, Belgium, on January 26, 1953, in the presence of only seventeen European countries. It is one of the organizations specialized in customs performance in the world, and its membership today includes 184 countries.
The organization's mission is to improve the effectiveness of customs administrations through the development of international legal tools for the coordination of customs systems and effective communication between member states. To achieve this mission, the organization prepares and administers various international covenants, tools, and standards for the harmonization and uniform application of simplified and effective customs systems and procedures that govern the movement of goods, people, and cross-border means of transport. The organization also provides capacity building and technical assistance to members as means to support modernization efforts.