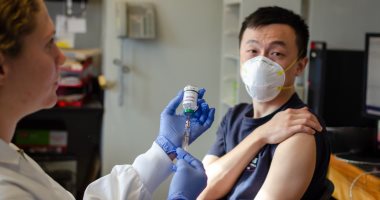 Today, Wednesday, South Korea announced the use of the "Sky Coffee One" vaccine, which is the first domestic anti-Coronavirus vaccine developed by SK Bioscience, indicating that the country has made great strides to achieve vaccine supremacy.


The South Korean Ministry of Food and Drug Safety approved the use of the vaccine, also known as GBP510, after consultations with the ministry's final inspection committee, and after a recommendation of "product approval" by the Central Pharmaceutical Affairs Council, South Korea's Yonhap News Agency reported.


The vaccine is the first local vaccine in the country to complete the three phases of clinical trials, and the company conducted the third phase on about 4,000 adults from 6 countries: Thailand, Vietnam, New Zealand, Ukraine, the Philippines and South Korea.


It is noteworthy that the new vaccine is a protein vaccine based on new nanoparticles composed of two components that can maximize the immune effect. It was developed in conjunction with the Institute for Protein Design at the University of Washington, and is designed to have a four-week interval between doses.