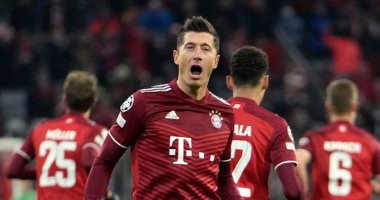 German media reports revealed that a meeting was held last Wednesday between Polish striker Robert Lewandowski, Bayern Munich striker, and his agent, Benny Zahavi, with Hasan Salihamidzic, sporting director of the Bavarian team, in Mallorca, Spain; To discuss the continuation of the best player in the world by the International Football Association (FIFA) in the ranks of the German Bundesliga champions for the coming seasons.
Robert Lewandowski's contract expires at the end of next season, but the German player is seeking to leave the ranks of Barcelona.
According to the German "Sky Sport" network, Lewandowski seems determined to leave Bayern Munich in the current summer transfers.
The Spanish newspaper "Mundo Deportivo" commented on the meeting, stressing that Barcelona has not yet made an official offer to Bayern Munich to obtain Lewandowski's services, and that it is all related to decisions regarding the economic situation in the Catalan club and the activation of the recent results of the club's general assembly.
And the Spanish newspaper stressed that Barcelona is preparing to submit a new offer to join Lewandowski from Bayern Munich, after the positive results witnessed by the Catalan team's general during the past few days.
Bayern Munich striker Robert Lewandowski reiterated his desire to leave the ranks of the Bavarian giant again, despite the remaining season in his contract with the team, as Barcelona is the closest potential destination for the Polish star.
"I hope Bayern fans understand me one day," Lewandowski said, in comments published by the Catalan newspaper, Mundo Deportivo.
Lewandowski added: "You have to calm the feelings, I want to speak calmly, not through the media, I do not want to escalate the situation with Bayern, I want to resolve the issue calmly."
The Polish star continued his statements, saying: "I still have a year left on my contract, and for this reason I asked Bayern Munich to give me the green light to leave, it is the best solution, especially since the club can still receive money from my sale."