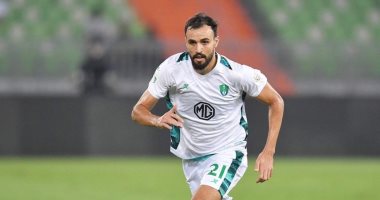 Saudi press reports revealed when the International Football Association (FIFA) decided the case of Tunisian Hamdi Al-Naqaz with Al-Ahly Jeddah, his former club, after the former filed a complaint with FIFA as a result of the termination of his contract.

And the newspaper, "Al-Riyadia Al-Saudia", said, quoting private sources, that "FIFA" will resolve the issue of Al-Naqaz with Al-Ahly next week, explaining that The Tunisian player demands financial compensation of about 4 million riyals due to unilateral termination of the contract, and delaying his salaries for a period of 4 months.

The newspaper added that Al-Naqaz signed his contract with the Western Club during the winter registration period, and did not play much because of the coach's conviction at the time, as he participated in only eight confrontations out of the 11 matches in which he was present from signing his contract until its termination, in addition to a number of clubs protesting against his participation. With the team due to the illegality of his participation as he was not an unemployed player during his registration, but Al-Ahly gained the legal position before he finally terminated his contract, knowing that it extends to a whole year that he did not complete with the team..
Zamalek club officials had settled on adhering to the contract concluded between the previous committee tasked with managing the club, and the Tunisian player Hamdi Al-Naqaz, the right-back, so that Al-Naqaz would return to the ranks of the white knight, starting from the new season..
Zamalek officials held a session with Al-Naqaz to determine some points that will be dealt with in the coming period, especially since the player had previously escaped from the White Castle, which makes his return again a matter that needs some broad lines between the two parties..
Zamalek officials contracted at the beginning of the season with Hamdi Al-Naqaz, coming from the Tunisian Esperance, before the White Castle officials failed to register any player to be loaned for a season to Al-Ahly of Saudi Arabia, after the Tunisian defender signed with the team for two seasons..