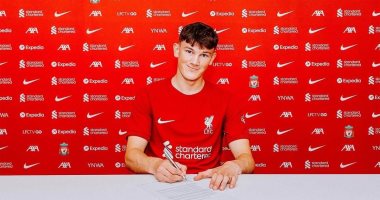 Calvin Ramsey, the new Liverpool player, has announced the challenge against Alexander Arnold, the Reds' right-back, next season.
Liverpool had announced the signing of Calvin Ramsey, the Scottish defender of Aberdeen, on a 5-year contract, starting next season.
"He's a great player, he's been great so far, I've watched him all last season and the way he plays, I think it's almost like me, the way he attacks and things like that, we're both still young," Ramsey said.
"But he is an unreal player, so coming here and learning from him, it will be great for me and I will learn a lot.
He continued: "I think that I am also versatile, I can play in several different positions, I started in the midfield, entered the Aberdeen Youth Academy, and then moved to the right-back position."
He continued: "It was my first match against Chelsea in a tournament, so it was a difficult game for me as a right-back, but I did well and played at right-back since then, I can play in a few positions, I think completely composed on the ball, I can find a pass, I can take the ball far, so I can play central midfield, right back, right winger – really anywhere."
Regarding his playing style, Ramsey replied, "Obviously I'm a right-back, a good striker, I like to attack. I'm fine defensively too, but my main characteristic is attacking – I can put in good crosses, I like to attack, I get long shots, both feet, cut." Inside, you go down the line, you call my wings."
I finish, "But mainly I like working hard, working hard for the team, entering a rotation. I will try to do my best for the club and I'm looking forward to that."