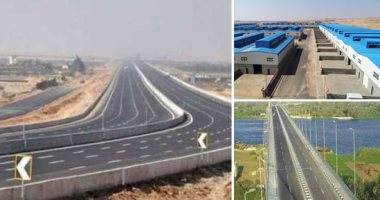 Transport projects are one of the most important goals of national projects, represented in the national road network, and emphasizing that the development of roads should be a decent life initiative, an introduction to developing the transport system, in more than 4600 villages and their dependencies.
A report by the Ministry of Planning and Economic Development clarified the role of the "Decent Life" initiative in improving the quality of transport services in the Egyptian countryside, where 9,000 km of internal and main roads are being paved, and 634 car and pedestrian bridges are established and developed, in addition to the development of 116 railway stations, to serve the people of 1477 villages within the first phase of the initiative, with a population of more than 17 million citizens, and during the fiscal year 21/2022 (only) more than 5.4 billion pounds were spent to implement transport sector projects within the "Dignified Life" initiative.
The report pointed out the development of public investments directed to the transport sector, as public investment directed to the transport sector exceeded 665 billion pounds during the previous eight years (14/2015-21/2022), with a rate of more than 454%, compared to the previous eight years (2007/06- 13/2014), where the annual investments directed to the sector increased from 16.2 billion pounds in 2014/13 to 222.5 billion pounds in 21/2022, with a growth rate of 1273%.
وأوضح التقرير أن الاستثمارات الكليّة لقطاع النقل بخطة عام (22/2023) تُقدّر ِبنَحْو 307 مليار جنيه فِى عَامٍ الخِطّة، ويخُص الْهَيْئَات الاقْتِصَادِيَّة نَحْو 72٪ مِن الْإِجْمَالِى، كَمَا تُشكّلُ الاستثمارات الْعَامَّةِ فِى مَجْمُوعِهَا نَحْوَ 91٪ مِن إجْمَالِى استثمارات الْقِطَاع، وتعطى هذه الاستثمارات الأولويّة To finish the projects that are close to completion and the national projects that have an economic impact on the business climate, in addition to the projects that have a critically important dimension.