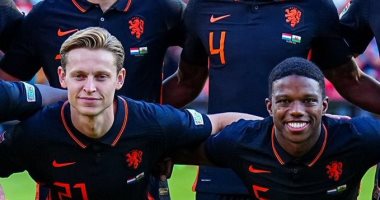 Press reports revealed, today, Wednesday, that the English club, Manchester United, fully agreed with the Dutch duo, Frenkie de Jong, Barcelona player, and Terrell Malacia, the back of Feyenoord, to come to the Red Devils, and only a medical examination remained.
"Manchester United's agents Terrell Malacia and Manchester United are in direct contact today to discuss agreement on personal terms," ​​said Samuel Lucarist, a journalist for Manchester United News.
The Manchester News newspaper added that United agreed to include Dutch duo Frenkie de Jong from Barcelona for 65 million euros, in addition to incentives and left-back Tyrell Malacia from Feyenoord for 15 million euros.
While the French newspaper L'Equipe confirmed that Lyon tried to block Malacia's deal to Manchester United by raising their offer to an increase of 1 million euros, but their attempt was unsuccessful.
The newspaper added that the player told Lyon that he had decided to join Manchester United.