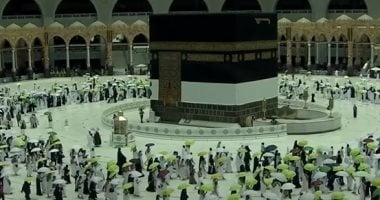 The Jeddah Islamic Port, the first trips of pilgrims arriving by sea from Sudan, arrived on board the "Amana" ship, numbering (1,519) pilgrims; Where they were received with souvenirs and bouquets of roses, the Director General of the port, Eng. Majid bin Rafid Al-Arqobi, and a number of government agencies officials in the port, according to SPA.
For his part, the head of the General Authority of Ports, Omar bin Talal Hariri, explained that Mawani has taken all measures to enhance readiness and readiness to receive the pilgrims of the Sacred House of God and visitors to the Prophet's Mosque, and to raise the levels of efficiency and performance levels for everything that would end the procedures for receiving, grouping and receiving baggage. They even moved to perform their rituals with ease and tranquility.
The General Authority of Ports launched a package of development initiatives in line with the National Strategy for Transport and Logistics and Saudi Vision 2030 by equipping (5) passenger terminals for arrival and departure, and harnessing all services to facilitate the entry and docking of ships, in addition to providing safe navigation through an empowered road in the maritime control tower by specialized cadres from Engineers and technicians to provide additional support services in line with the national efforts made during this year's Hajj season.


"Mawani" has added 54 counters in the arrival hall inside the Jeddah Islamic Port for Passports Department, to reach currently (74) counters, and rehabilitated the departure hall by adding "counters" serving travelers during the issuance of boarding cards, which contributes to ensuring the smooth movement of pilgrims, as well as allocating an area For baggage handling, and adding (4) border guards' inspection devices in order to reduce time and effort.


And it worked to provide primary health care services inside the port with high efficiency by rehabilitating a medical clinic and equipping advanced ambulances to transport cases that require treatment in hospitals, in addition to taking into account the facilitation of the process of transferring pilgrims from ship docks to arrival halls by the latest buses, and allocating sufficient numbers of vehicles Transfer of luggage, with an increase in the number of departing bus stops to reach (19) buses, up from (8) buses in the past.