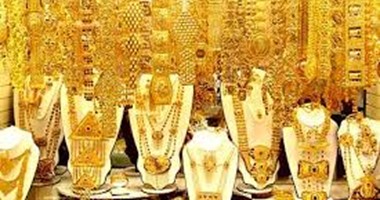 The gold market closed its trading this week with a decline of about 2% in the global stock exchange, as an ounce of gold lost about $ 30 over the course of the trading sessions, and expectations indicate that gold may be subjected to more pressure by the dollar in the coming days with the trend to raise interest by 1 %.
Saad Salimah, an expert in the metals markets, said that the gold market is awaiting this week a number of events, reports and indicators that could affect the path of the market and the global gold exchange. .
He pointed out, in exclusive statements, that these indicators may lead to adjustments in the directions of investors and those looking for safe investment, as traders are closely watching these data to know the trends of gold prices during this week.
He explained that the gold market in Egypt is not far from the developments in the price of gold globally, and gold may move in a price path and channel between 985 to 1005 pounds per gram of 21 karat this week, up and down, according to the course of things on the global stock exchange.
He stressed that the announcement of unemployment indicators, interest and unemployment reports in Europe and America would affect the trading of gold, as negative data may support gold towards the rise, as happened at the end of last week's sessions, after announcing the rise in inflation, we witnessed a recovery for gold, and if the data were positive and reveal the severity of crises The gold may continue to decline.
Regarding buying advice, Dr. Saad Salima believes that gold is a safe haven all the time, but the purchase decision must be thoughtful by the consumer according to the amount of savings and financial surpluses he has, because directing all financial surpluses in one direction only may entail some risks.