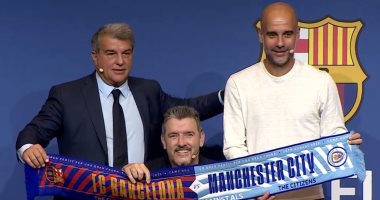 Barcelona club president Joan Laporta, Manchester City first team coach Pep Guardiola, and former Catalan giant coach Juan Carlos Unzue announced the details of the charity match between the two clubs next August..
Barcelona will meet with Manchester City on August 24 in a charity match to raise funds to support research carried out by scientists in order to confront Spinal Muscular Atrophy, which Onzoi suffers from, and Al-Ahly player Moamen Zakaria also suffers from it..
The goal of the match, which will be held at nine in the evening, Cairo time, is for the stadium to be full in order to transfer its proceeds to research that may reduce the number of 4,000 people infected with this difficult disease in Spain..
Onzue announced that he had muscular dystrophy last year, and that he worked as an assistant coach for Barcelona during the period of Luis Enrique, between 2014 and 2017, before the departure of the entire coaching staff from the Camp Nou..
On the other hand, Pep Guardiola said: ,"At the moment, in my opinion, Bernardo will continue with us next season, our goal as a club is to ensure that he continues with us.."
Pep Guardiola replied to Juan Laporta jokingly, "I will reach Barcelona with Bernardo and 10 others laughing, in response to Barca's interest in Bernardo Silva."
The City coach added, I'm very good at tactics, but when it comes to transfers I have no idea, I don't want to have players who don't want to be with us, and I don't know what the market will say.".
Pep continued, "Bernardo is very important and we want him to stay, all Manchester City players will be against Barcelona in the friendly match.".
Pep Guardiola added, "I think Bernardo will continue with us, but I don't want to have players who don't want to stay and I don't know what will happen in the market but we would like him to stay.".
Pep Guardiola continued, "Every time I come to the Camp Nou they give me four, but this time I hope that changes."
Pep concluded, saying, "Xavi helped me a lot on the field, Barcelona with him will grow again and the team will return to what it was, I feel here at Camp Nou as if I am at home, very happy to be back, we will come with all our strength to win at Camp Nou."