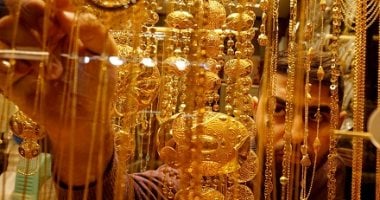 Today, Saturday, gold prices witnessed stability at levels of 990 pounds per gram of 21 karat gold, after a noticeable drop yesterday to the level of 980 pounds per gram, while gold compensated for its losses, recording 990 pounds according to the market closing price, Friday, July 1, 2022.
Gold prices today


18 caliber recorded 848 pounds
21 caliber recorded 990 pounds
24 caliber recorded 1132 pounds
The gold pound is 7920 pounds
Gold ounce 1810 dollars
Gold Angel Losses
Gold holders in Egypt and the global stock exchange suffered huge losses during the months of May and June 2022, due to the significant decline in global gold prices, as well as gold prices in Egypt, which recorded declines exceeding 260 pounds per gram, after gold prices fell yesterday to levels of 980 pounds per gram, compared to 1250 pounds. per gram in the first week of May 2022.
The losses of gold owners in Egypt until the formulation of these lines, since the beginning of the first week of May, amounted to more than 260 pounds per gram, as the prices of gold for 21 karat fell from the level of 1250 to 980 pounds per gram before gold compensated part of these losses at the beginning of Saturday's transactions, and gold recorded 990 Pounds per gram of 21 carat, which is the main carat in the country.
As for gold prices globally, they were recording levels approaching $ 1900 in early May 2022, and the length of May and June recorded a decline more than once, to descend to levels of $ 1790 in trading Friday, July 1, 2022, before gold compensated part of the losses and settled at $ 1810, bringing the total decline The price of an ounce of gold on the global stock exchange is $90 in two months.
The main reason for the decline in gold prices globally is the rise in US interest rates in the last two meetings of the US Central Bank, which raised interest rates by 0.5% and then a historical increase by 0.75% for the first time since 1994, which caused the recovery of the dollar and then a sharp decline in gold.