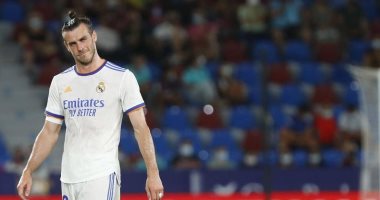 The official account of the Los Angeles team, recently joined by Gareth Bale, announced the presence of the Welsh star in the Trafico Derby match, which brings together his Los Angeles team and rival Los Angeles Galaxy.
Bale did not participate in the Bank of California match, which his team decided today, Saturday (3-2), due to a problem with a work visa, and the Welshman is still waiting for the kickoff in his new challenge, after he previously represented Southampton and Tottenham clubs in addition to Real Madrid.
Bale arrived in the American League as one of the most prominent transfers, and joined his American team for free after the expiration of his contract with Real Madrid.
And Bell joined the Italian defender Giorgio Chiellini to the ranks of Los Angeles, which also includes one of the stars of the competition, the Mexican Carlos Vela.

And theThe American Los Angeles had officially announced the signing of the Welshman Bell, without revealing the duration of the contract or the annual salary of the player.
And the American newspaper "Los Angeles Times" reported that Gareth Bale signed a season-long contract with Los Angeles, for 1.5 million euros for the season he will spend in the latter's ranks..
She added that Gareth Bale was the highest paid player in Real Madrid, and he was getting 20 million euros, but his salary will definitely decrease with his experience in the American League..
And the newspaper confirmed, that Gareth Bale will not be a franchisee within the ranks of the Los Angeles Galaxy team in financial terms, noting that Bale's contract with Los Angeles of America includes an extension clause for an additional season, in which case his salary will be increased..
It is worth noting that Gareth Bale is seeking, through his experience in the American League, to prepare to lead the Wales national team in the 2022 World Cup in Qatar..