Today, Saturday, press reports revealed the real reasons for Liverpool's approval of the departure of Mohamed Salah during the summer Mercato, before the end of his contract at the end of the next football season.
And the Daily Mail published a report in which it said that it was possible that Liverpool would allow Mohamed Salah to leave this summer, if a suitable offer was made.
And the newspaper "Sun" revealed that Liverpool will allow the departure of Egyptian star Mohamed Salah this summer, if an offer worth 60 million pounds arrives, after the departure of Senegalese star Sadio Mane towards Bayern Munich.
The Daily Mail explained the real reasons behind Liverpool's approval of Salah's departure, stressing that the Reds administration fears the departure of the Egyptian star for free next summer, in light of the failure to reach a final agreement with him to sign a new contract.
The English newspaper pointed out that Liverpool does not want to implement the financial demands of the Egyptian star, Mohamed Salah, for fear of destroying the players' salary structure, in light of the player's desire to obtain 400,000 pounds per week.
And the Daily Mail reported that despite already losing Sadio Mane to Bayern Munich, Liverpool could end up selling one of their star players and are willing to consider offers worth £60m for Salah.
Salah is 30 years set to enter the last year of his contract with Liverpool and no agreement has yet been reached on a new deal. Mane also had a year left on his contract and ended up with Bayern Munich in a £35m deal.
And she continued, "Salah is said to be demanding a salary of 400,000 pounds per week if he were to stay at Liverpool, which represents a significant increase in his current earnings of just under 240,000 pounds per week that Virgil van Dijk receives."
And the newspaper concluded, "Liverpool brought in striker Darwin Nunez and they also have Diogo Jota and Roberto Firmino, but Salah's loss will still be very important in terms of their overall offensive options."
The newspaper pointed out that Real Madrid is one of the most prominent interested in the inclusion of Egyptian star Mohamed Salah during the current summer transfer market, in order to compensate for the failure of the deal, Kylian Mbappe, the French star of Paris Saint-Germain.
Mohamed Salah finished the last season of the English Premier League as the top scorer with 23 goals, equal to the South Korean star Son Heung-min of Tottenham Hotspur.
Salah scored 31 goals last season and provided 16 assists for Liverpool in 51 games in all competitions.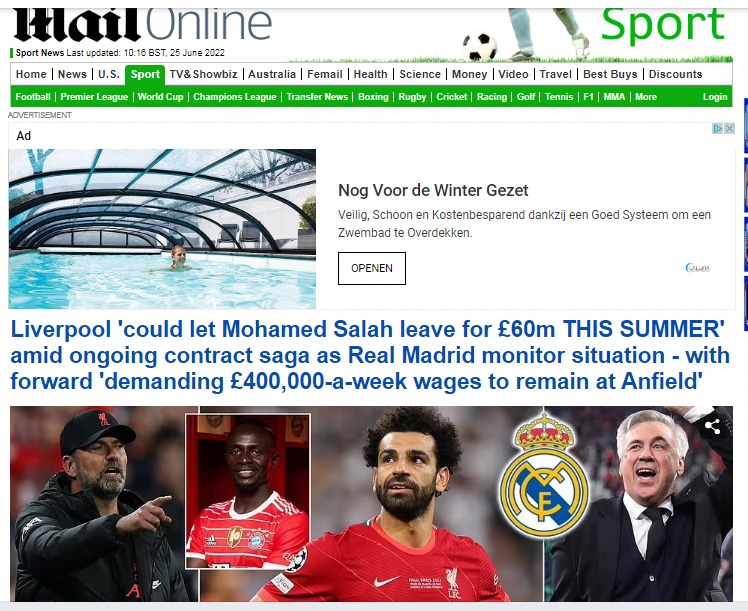 Mohamed Salah