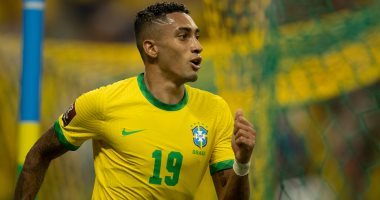 Spanish press reports revealed today, Wednesday, that Barcelona has reached a final agreement with Leeds United to sign Brazilian Rafinha on a 5-year contract..
And the Catalan newspaper, Mundo Deportivo, confirmed that Rafinha will travel to the player today, Wednesday, to conduct a medical examination and sign the contract with Barcelona, ​​​​after he reached a final agreement with Leeds United to include him and sign the contract until 2027..
According to El Mundo, Barcelona made its last offer of 58 million euros and 7 million euros in variables, which was agreed to by Leeds United, while Barcelona had settled with Brazilian international Rafinia personal terms and the duration of the contract, which amounts to 5 seasons until the summer of 2027..
Rafinha's desire to play for Barcelona was decided with the pressure of his Portuguese agent, Deco, the former Barcelona player, to resolve the conflict in favor of the Blaugrana, despite the entry of several clubs to compete with Barcelona, ​​most notably Chelsea, Tottenham and Arsenal, where they were ready to present a better financial offer of up to 75 million euros..
The feasibility of contracting with the Brazilian Rafinia sparked a great debate within the technical management of Barcelona, ​​​​in light of the continuation of the Frenchman, Ousmane Dembele, and his signing of a new contract with the team, and because he also plays in the same position..
And El Mundo continued, the Barcelona sports administration bet on contracting with the Brazilian international because he plays in several positions in the attack as a right and left wing and an attacking center and has courage in front of the goal, and to give the team's attack greater strength to compete next season for all titles..
She explained, and the Brazilian international agreed to receive a salary from Barcelona that is low and less than what he was receiving in Leeds United and much less than what English clubs had offered that were willing to include him and for his insistence on playing for the Catalan team..
Rafinha has played for Leeds United since his promotion to the Premier League in 2020, and Rafinha moved to Leeds from Rennes for 18 million euros..
Rafinha played 67 games for Leeds United over two seasons, during which he scored 17 goals and assisted 12.
Rafinha began his career in Brazil's Aval, before moving to Europe through the Portuguese gate Vitoria Yamarayes. Rafinha played for Sporting Lisbon in the 2018/19 season and contributed to winning the Portuguese Cup and the Portuguese League Cup..