Sports
Paris Saint-Germain arrives in Doha and inspects the World Cup stadiums
Paris Saint-Germain, the French League 1 champion, arrived today, Sunday, in the Qatari capital, Doha, for a two-day visit, and Paris Saint-Germain is expected to conduct a promotional tour in Qatar today and tomorrow..
The tour includes a visit to two stadiums for the 2022 World Cup, which begins on November 21, and Saint-Germain indicated that this trip is "an opportunity to highlight the innovative and exceptional characteristics of the country's sports facilities."
🆒🚎 Le bus Parisien pour le #QatarTour2022


❤️💙 #WeAreParis pic.twitter.com/IkSPG5UDpo

— Paris Saint-Germain (@PSG_inside) May 15, 2022
Yesterday, Saturday, the Paris team managed to beat its host Montpellier by four goals, with Argentine star Lionel Messi scoring a double and compatriot Angel Di Maria and Kylian Mbappe with a goal each..
This season, Paris Saint-Germain won the local league title for the tenth time in its history.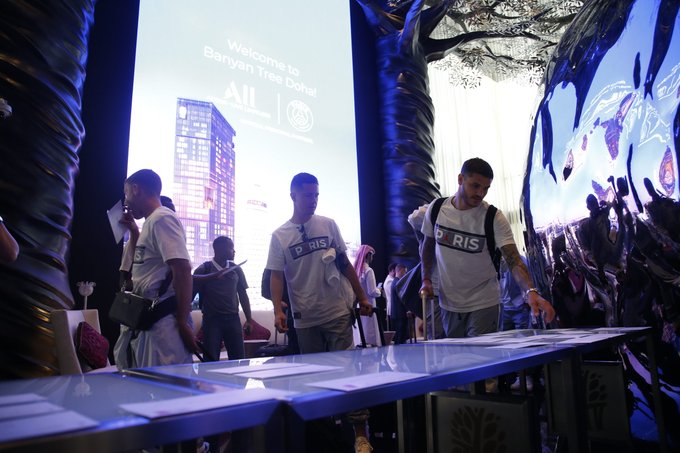 Paris Saint-Germain scored a 4-0 victory over its host Montpellier, in the match that brought the two teams together, on Saturday evening, at the Stade de la Mousson, in the 37th and penultimate round of the French League..
Messi scored a double in the 6th and 20th minutes of the match, while Angel Di Maria scored a goal in the 26th minute.
In the second half, Kylian Mbappe added the fourth goal in the 60th minute through a penalty kick, to end the match with a 4-0 victory for Paris.
And Mbappe achieved a historic record for him during his career, after he scored a goal against Montpellier.
According to the "Opta" statistics network, Kylian Mbappe participated in 55 goals in all competitions in 2021/22 (he scored 35 goals – provided 20 assists), to be his highest score in one season at the club level in his career..
With this result, Paris Saint-Germain continued to lead the competition's standings with 83 points, while Montpellier occupies thirteenth place with 43 points..